HAUTE-COUTURE 2009 SS CHANEL - Karl Lagerfeld INTERVIEW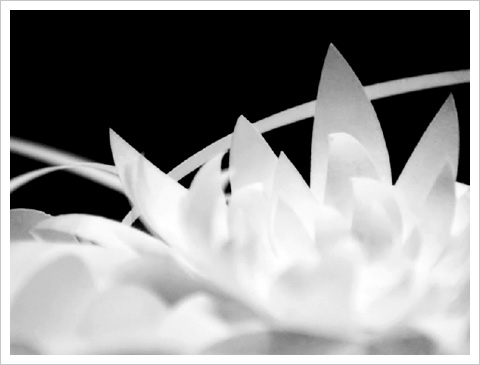 CHANELのオフィシャルサイトにオートクチュールコレクションの映像やKarl Lagerfeldのインタビューなどがアップされていました。
インタビュー映像では、コレクションのテーマとなっているホワイトペーパーについて(髪飾りを担当した加茂克也など)や音楽を担当しているMichel Gaubert、今回の会場についてJean CocteauのThe Blood of a Poetの映画を引き合いに出すなど、Karl Lagerfeldが答えていますね。
--
The idea was the white page. It like a drawing. Everything is white with a bit of black, which is the base of all color. It has a graphic impact with a new silhouette. I wanted clean lines, with these cap sleeves which hide the top of the dresses. It is removable. The dresses and suits are all made from several pieces. I find this layered clothing very contemporary. The dress for dancing can hide under a cocktail dress. The clothes have two lives, for day and night. There are few evening dresses.
These flowers in white paper!
I love paper. It is my favorite material in the world. I wanted a white page. I cannot live without a pad of paper in my hands. It is what I like best. The paper has been reworked by Mr Lesage to become something else. The hair was done by a Japanese stylist, Kamo. From my drawings, he made all these paper flower headpieces. Only the Japanese could do that. Each one took only seconds, it was a miracle. I wanted purity. A dress can come in all different colors. But for the show, I wanted graphic and immaculate. European hands cannot do this. It takes another discipline, and the love of paper which is found in Japan. The tweeds have been renewed with braiding so delicate you can barely see it. It is for initiates. To show the construction, I treated it almost like a collection of paintings. It has that refinement. You can see the cut, the construction.
The music was really interesting. It had a medieval feel, but it was modern.
It is more baroque that medieval. A mixture of Japanese, baroque and modern. Michel Gaubert is a genius.
I liked seating arrangement with the small tables.
It makes for a change. And it solves the issue of the front row. There is no front row.
I saw you standing upstairs. It was a first.
It was a rare occasion. You know The Blood of a Poet, by Cocteau? Do you know the movie? People are sitting in boxes, watching a strange scene in a snowy courtyard. When we were upstairs, I had the feeling we were in that movie. Normally I do not want to be seen, but this was fun.
I am thrilled. It expressed what I wanted to say, and people got the message. The blank page, the paper, the most accessible material, in the context of luxury for initiates.
Thank you.
My pleasure.