CHANEL CRUISE 2009-10 RTW - Karl Lagerfeld INTERVIEW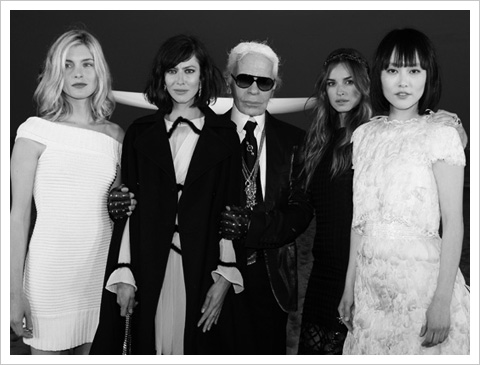 Chanel came here for the first time in 1919 with Misia Sert and her husband. They introduced her to Diaghilev, Stravinsky, and all those people.
I always like it in Venice. I also like the melancholic idea. This was the most trendy beach in Europe. Everyone wanted to go to Venice, it was magical. 19th century already, and mostly in the early 20th century. It became less trendy after Saint-Tropez. But the magic touch of Venice was something I could use for this collection, which is inventoried under the name Cruise. I like it, it is redone and impeccable. There is a future done with a large element of the past.
The big black capes are in toweling, inspired by the black cloaks you see in Tiepolo's paintings.
Death in Venice was because I wanted to show Tatjana with the children. It had a melancholy charm. After that, the allusions and illusions I evoked are all fairly vague. "White telephone" movies, the silent Italian movies of Lyda Borelli and Bertini, the colors of Renaissance paintings and even before. The graphic effects of Carpaccio, touches of Fortuny but done differently. There's Byzantium influence, since from 12th century it inspired Venice. There is futurism, D'Annunzio. There is also a touch of pre-WWI French influence on Venice. Henri de Regnier... Misia Sert brought Chanel into the cafe society. People rented palaces here, like Cole Porter and his wife, and the Princess de Polignac. It was an intense life which does not exist today. But I like idea. That is already quite a few references. But no references is carried through to a reconstruction. They are allusions.
They are important for Chanel. Chanel has such a strong image for handbags and jewelry, a stronger identity than any other House. It is fun to play with that. Then there were shoes like gondolas. I like the idea of a little joke, a little fantasy.
Life is hard for many people, so it is nice to propose something playful and at the same time elegant. They are clothes for easy living. You make collections for people to wear. Not for museums, despite a tendency today to design directly for the museum. I am not an artist, I am a dressmaker.
They make beautiful men's clothes. I never wear my own designs.
I love walking in Venice, but I prefer to stay in the Lido. I love the Lido. Not necessarily the sea, I did not have time to swim. It is comfortable, and I have always found it quite mysterious. The references are different, more sophisticated, more literary. That is what I love.
---
via chanel.com