CHANEL Paris-moscou Fashion Show - Karl Lagerfeld INTERVIEW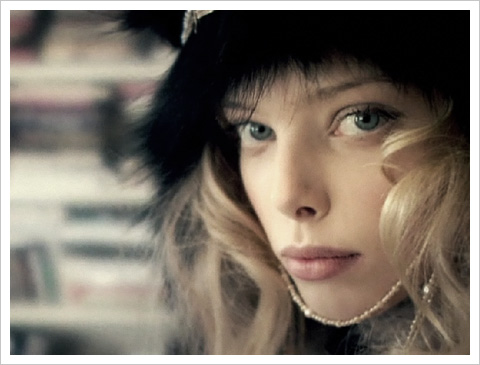 CHANELのオフィシャルサイトに先日のコレクション映像などがアップされていました。
SHOWの映像もカッコよくて好きな感じですが、何といってもACCESSORIESの映像の雰囲気が、もう・・・素晴らしい。
Karl Lagerfeldのインタビューについてですが、今回も映像から字幕を起こしてみました。
(一部あやしいところもあるかと思いますが・・。)
--
Why is it important to celebrate this?
I do not call it celebrating. I just took the idea I needed for this kind of collection at this time of year.
Something vaguely related Chanel. It is not celebration. It is an explanation of this idea. There is a French-Russian connection. I decided to make a movie about Chanel's Russian connection to explain why I chose Moscow. I love doing that.
I hove never been so at ease. I surprised myself.
She was a silly little girl then.
She was a cute little girl who liked handsome boys. The first part is like a Feuillade movie, inspired by pre-1914 cinema. The second part evokes Marcel L'Herbier. More sophisticated. I know the techniques. I could do it with my eyes shut. In the movie, she says, "I will mix it all". Constructivism, Imperial Russia, and folklore. Her Russian collection was Russian folklore. This is a mix of everything. The huge tiaras could be costumes for an emperor, but the girl wear dresses like bosses in Stalinian offices. Tight jersey dresses.
It was dazzling!
They are strict Stalinian dresses in grey jersey.
I loved the first part.
Why Russia?
Russia had a connection with Chanel, as the film explains. We used London because of her English mother. We used Monte Carlo because she loved it and had a house there. These locations serve as inspiration. The Cruise will be in Venice, because she often went there. It was a sort of theme which I used as a lead-in. It gives a spirit to the collection which sets it apart. It is not a prelude to the main collection. It is a separate collection, done separately. A luxurious debut to the winter Pret-a-Porter collection.
Did you enjoy making the film?
It was real joy. It is true cinema.
Did you write it?
I wrote it in my head. Then we put things together. I know silent film, the construction and composition. Each image was constructed. Today's films talk too much.
Each image is a picture.
Exactly. I am an illustrator. The film was constructed image by image, shot by shot.
Is it nostalgic? I really felt we were in 1923.
The best compliment we had was when the final print was made. Because it is cinema, not video! We used real film. Until Boy Capel arrived, the editor thought it was archive footage.
There is an atelier scene and a cabaret scene. How was the atelier scene linked to Russia?
They talk Stravinsky and the Russian Ballet. In the film with Anna Mouglalis, they say she met Stravinsky in 1913. Not true. She met him in 1919, because she paid, through Misia Sert, for the restaging of The Rite of Spring in 1919. She was not there at its creation. That is why she says, "What is it called? Sacre Printemps?"
For me, it is the kind of Couture which does not need a hundred fittings. I hate to be fitted. I buy expensive clothes, but which do not require much fitting.
It is not a pre-fall collection. It is a collection in its own right.