CHANEL 09-10AW Collection - Karl Lagerfeld INTERVIEW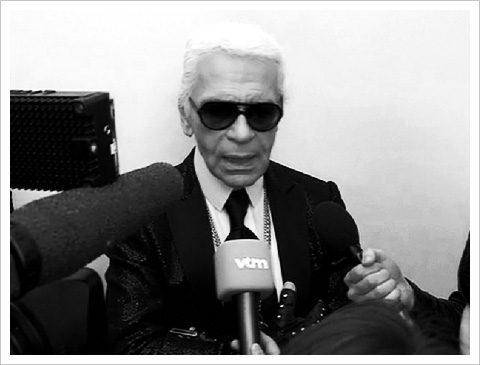 Karl LagerfeldのインタビューもCHANELのオフィシャルサイトにアップされたので今回も字幕を起こしてみました。
個人的にはメンズモデルへの言及があったのが気になりましたね。言われてみれば確かにCHANELっぽい性差へのアプローチの仕方だな・・と妙に納得してしまいました。
--
The inspiration... Have you heard of Beau Brummell?
Beau Brummell was an early 19th century Englishman who was a favorite of the Prince Regent. He was sick of color, lace 18th century men's fashions, and he decided men should dress in sober colors, like today.
He placed a lot of focus on white shirts, cuffs, cravates, and all that. Like the little black dress with a white touch. I took this and exaggerated it. But cuffs get dirty, so I moved them. I took piece of clothing, the shirt, and made accessories. They are done in wool, silk, cotton, feathers, in tulle, everything you like. I made this garment in detachable pieces which are like jewelry.
"Chanel Belle Brummell." It is very feminine, and very Paris. Chanel loved black and white. There is a photo of her in white ruffles. I used all that to make something very today. The dresses have two lives. One for business, then you add to them. It is very becoming, very fresh. It is unpretentious, there are no logos.
I worked on the green jade jewelry with Laetitia Crahay. I decided to also look at pink jade. It was pretty, so I added some baby pink. The knitwear evokes bed jackets, nightwear, with a cozy feel. It looks very fragile on Lara Stone. It gives a different feel. Things must not become dry and masculine. For me, this is a very feminine collection.
We always retain that image of Chanel in a boater. I wanted to make one in knit. I had never done that before. Since everyone is wearing knit hats today, Why not a knit boater? It removes the old lady connotations. My job is to place Chanel in the spirit of the times. Given the times and the atmosphere, I found it appropriate to the moment to transform very frivolous, feminine dresses into almost austere, elegant outfits. I liked that formula for the current climate.
Same of the shoes have cut heels with a jade ring. Others have heels or platforms like a sculpture. The clothing required a volume in the shoes. The knit had the big cuffs and the things around the neck which needed balance. It did not look good with stilettos and thin soles. I do not like classic men models. I only take people I know well, friends of mine and each other. Boys between these tall girls in their hats and high heels can look silly, even though the boys are tall. The clothes they had on also for women. I do not put them on the runway twice. Chanel took so many looks from men that I wanted a proposition for men today in the mood of Chanel. Both women and men can wear them. It is like jeans, parkas and T-shirts. There is no gender for those.
Designer's block is commonplace. I do not believe in it. For me, being a designer is like being an athlete. I do not believe laziness brings inspiration. The French say, "Appetite comes with eating." Ideas come when you work.