INTERVIEW with Maison Martin Margiela / +81 Magazine VOL.44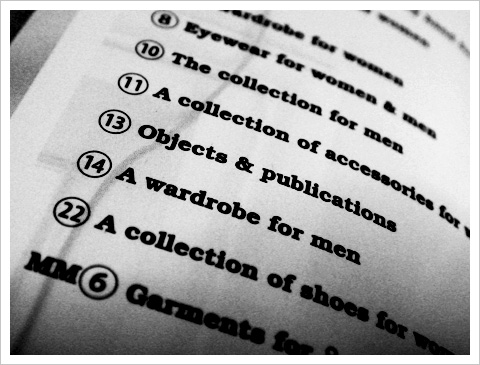 What is the most important thing for you in creating clothing?
Always being unaffected and sincere.
How do you find and decide upon the themes for your collections each season?
Aside from suddenly coming up with ideas the day before we are also able to take inspiration and ideas that have kept over time. However, we must always patiently observe the things around us. Anything and every thing can become a creative source.
Do you consider brand concepts or seasonal themes to be important?
No. While it may seem illogical or unfocused, our collections only come together and gain clarity once they are actually given form.
Is there anything that all of the staff focus on in order to maintain a stable level of quality?
We all strive to always remain faithful to ourselves, our abilities, and our beliefs. We absolutely never compromise due to monetary reasons or trends.
What sort of influence has Belgium had on the maison's current creations?
Out of the 72 members of our current staff only four of us are Belgian. So, I don't think there has been that big of an influence.
The worldview Maison Martin Margiela has constructed is very unique and one-of-a-kind. How do you perceive this worldview?
We didn't build this worldview intentionally. It became a singular thing as a result of the history, personality, background, an culture of each member of our staff coming together.
What are the essential elements for building a brand's worldview?
Nothing is essential, because everything is spontaneous.
What is your vision for the future?
We all want to continue to be dreamers.
and more interview text on +81 magazine.
現在発売中の+81 VOL.44 / SUMMER 2009 Creativity of Garments issueに掲載されているMaison Martin Margielaのインタビューから、気になった部分をいくつか引用してみました。
Maison Martin Margielaは個の集合体であり、トップダウン型のメゾンではないというのはよく知られたことだと思いますが、インタビューの回答自体もメゾンとしての回答なので、その内容も非常にアイデンティファイされたものとなっていました。個人的には共感する部分がとても多かったですね。
6+ Antwerp Fashionとも内容が繋がりますが、メゾンのスタッフ72名の内、4名のみがベルギー人であり、ベルギーという国がメゾンのクリエイションに大きな影響を与えているとは思えないという回答や、メゾンの世界観は意図して構築されたものではなく自発的に(結果的に)そうなったということ。また、今後のヴィジョンについての質問に対しては、常に夢想家であり続けたい、と。
その他にもいくつか写真と共に記事が掲載されているので、気になる方は本誌を購入されてみると良いかなと思います(雑誌自体がファッション特集ですので)。