Chanel Haute-Couture FALL-WINTER 2009/10 - Karl Lagerfeld INTERVIEW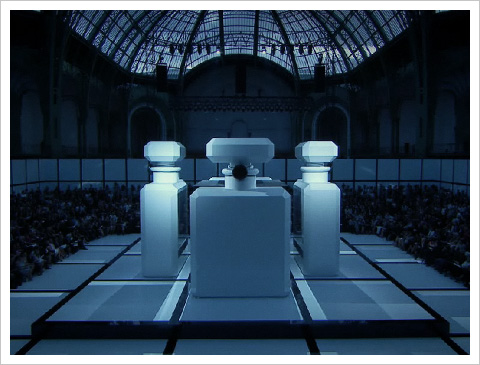 Chanel 09-10AW Haute-Couture Collection - July 7, 2009 / GRAND PALAIS - PARIS.
SHOW, DETAILS, INTERVIEW MOVIE - NOW AVAILABLE.
--
I love the Grand Palais. It is the heart of Paris, as Les Halles used to be. It is central, it is wonderful to arrive along the grand avenues. The building has such amazing proportions.
Since Chanel is in the public domain, our name is often on screen. So sometimes I inherit an image which is not the one I want. Chanel 2009/1010 offers a graphic refinement and a touch of coquetry for the legs, with flattering panels which give a flirtatious movement without the bulk of ball gowns for balls which no longer exist.
It is a question of proportion and elongation to give a spirit of lightness, and to make an effect.
Peter Philips did incredible make-up, and Kamo the Japanese hairstylist. I may have the idea, but the fulfillment is beautiful. I create ideas on my drawing board, but fortunately I have help to produce them. I can draw things, but I cannot do them.
It is completely part of Chanel. What is more mythical than her suit and No.5 perfume? I am here to keep the myth alive. The tweeds are made for us. You cannot buy them. The braid is by Mme Pouzieux, the little woman here earlier. She has no successor, she will not share her secret. She does it to make enough money for her horses. She is an amazing character. They rarely exist anymore.
My work comes intuitively and instinctively, and adapts to the requirements of the fabric. That is Couture. I do not question it. Otherwise it becomes second-rate marketing, which I refuse.
There are lace helmets. Apparently you can see fine. They can be removed so the woman can eat or drink. It is quite nice sometimes to see and not be seen.
For the exhibition of court dress at Versailles, I took Mr Lesage, and he examined the embroidery of the time. There was a lot in France, though much did not survive. But all the embroidery in all the courts came from Paris. So we have this tradition. It is our role to maintain it.
I find it beautiful, these two young people in the box. Lara Stone is the girl of the moment. She is important because she is rounder, while people say the girls are too thin. She is perfect. She needed a young man to help with the train. I chose Baptiste Giabiconi. They make a beautiful couple, like two dolls.