CHANEL 10-11 Cruise Collection - Karl Lagerfeld INTERVIEW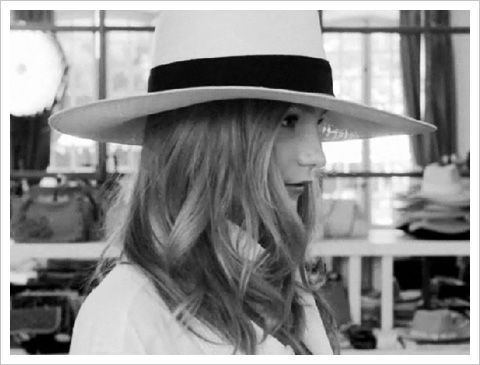 CHANELのオフィシャルサイトにサントロペで行われたCruise Collectionの映像とDETAILS、そして、Karl LagerfeldのINTERVIEWがアップされていますね。
以下は、いつものようにKarl Lagerfeldのインタビューから。
--
I love Saint-Tropez. I am tired of destinations at the of the world. When you have such a paradise not far from Paris, in the center of Europe, why not go there?
"Love is in the air."
Yes, exactly. The borderlines are not as strong in summer fashion as in high fashion collections. You can show jeans. It is like winter sports clothes. Everyone has two arms and two legs. For the rest...
You worked on jeans. You also worked on swimsuits for evening.
You have the sea and boats. That is a look for the boats.
Is it a collection for the big yachts, or for young, trendy women?
You can be young, trendy, and on a yacht. There are no more rules.
There is a new take on gingham in the collection.
Everything has to be seen in a way that feels new. Otherwise it is vintage. This is not a vintage collection.
Juliette Greco came.
I love her. Of all the people here, she was the only one who knew Chanel. She was a Chanel client. Chanel adored her. It was very touching. I was surprised to see her here. Nobody else, myself included, had ever seen Chanel or remembered Chanel. Only Juliette Greco.
Greco also embodies the idea of Saint-Tropez.
She is Paris, she is Saint-Germain. She is a certain idea of French chic. I do not think in these terms, but rather "the idea of Saint-Tropez". I do not go into sordid details or private lives, the rich and poor the camping site and the yacht. For me it is a vision, an idea.
What is the link between Coco Chanel and Saint-Tropez?
The link is very small. The only thing we know about her being in Saint-Tropez is a letter from Colette to her husband saying she went to Vachon. Vachon used to be next door. Not any more. Colette was buying something when someone covered her eyes. It was Coco Chanel there with Misia Sert and Paul Iribe. Colette hated Paul Iribe. It was shortly before he died on the tennis court. Chanel was at her villa at Roquebrune.
- Everyone calls me Coco. I am mad for Chanel.
In the movie, the girl walks around saying, "Everyone calls me Coco. I am mad for Chanel." It means her spirit has survived. She is not the reincarnation of Chanel, but a fashionista. Girls all around the world still want Chanel.