Chanel 10-11AW Haute Couture Collection - Karl Lagerfeld INTERVIEW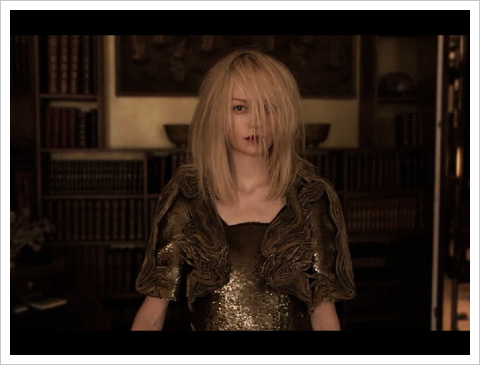 Chanelのオフィシャルサイトに10-11AW Haute Couture CollectionのKarl LagerfeldのインタビューとDETAILSの映像がアップされていますね。
インタビューでは、インタビュアーがLesage, Lemarie, Massaroといった工房の名前を出しつつ、メティエダール・コレクションのようだと表現していますが、確かにそのような雰囲気もあったかなと思います。レッドカーペット・ドレスに少し飽きている、といったKarl Lagerfeldの発言は、floor lengthのドレスなどが無かった今回のコレクションをよく表していますね。
--
- It looks like a Metiers d'Art collection. The embroidery, the work, the sophistication.
There is a lot of metiers and art in terms of craftsmanship. It is the same people. The difference is it is another proportion.
- It is a tribute to Lesage, Lemarie, Massaro...
Also the House Montex, run by Annie, who is a genius.
- Which dress took the most hours? Which took longest to do?
This one that looks so simple. This blue and mauve dress.
- Like 1970s glitter.
Some dresses have a million sequins.
- No long sleeves.
No long dresses. It was time for a change, for a cleaning up. Because from 1922 to 1930 there were no long evening dresses. I am a little tired of red carpet dresses. This big Belle Epoque stuff worn by movie stars. This is for running around and moving. Like in the twenties. The roaring twenties. In the sixties, everything was short. It was supposed to be modern, for the future. The future turned out to be different. But I liked this idea of comfort, finally, after all the Belle Epoque tralala.
- So the new flapper of the 21st Century is supposed to wear...
The new flapper is more body conscious. Flappers of the twenties had no waists. This is a very feminine shape. The waists look even smaller with short boleros over the waist, there is volume in the sleeves. It is a new proportion. Only the bracelets and the boots. It is about balance and modernity.
- It is one of your best collections. I know you hate that.
Yes, I have to do another.
- And you are blank. For the moment you are blank for the next one?
No. I will be ready by tomorrow morning. Fashion is about going ahead, not about memory.
- And no credit on the past. Never?
This credit card does not work. When people want to be liked for what they did, they should stop.